Welcome to Adventure Gamers. Please Sign In or Join Now to post.
Obscure adventure game discussion thread
Speaking of Sega Saturn have you played Lunacy? It's a point-and-click adventure that uses pre-rendered FMVs like that of Warp's D. Probably not so much obscure but definitely one of the lesser known adventure titles for the Saturn. From what I remember it is somewhat of a sequel to the 2 other lesser known but great point-and-click pre-rendered FMVs, Mansion of Hidden Souls and The Mansion of Hidden Souls. The first being on SegaCD while the latter on Saturn. I very much enjoyed the lot, nice graphics, nice puzzles, and good story!

Yeah, I've played all of those. I'd say they are obscure as far as this forum goes. Most people here are so DOS/Windows centric that anything outside of that is pretty unknown to them.

I don't recall any narrative relationship between Lunacy and the Mansion of Hidden Souls games but it's been a while since I've played them. It's unfortunate that both of the latter have the exact same name though as the Saturn one is a direct sequel to the first SegaCD game and it causes confusion between the two. I believe I liked the first game better than the second but my memory is pretty hazy on that.
Yeah the similar titles confused me as well. I don't know if Lunacy is actually a sequel but the butterflies that Anthony collects, which he says, "When someone dies they're soul comes back as a butterfly." either ties them together or it's just a reference to the previous games since all 3 were developed by System Sacom.
This message will self destruct in T minus… BOOM!!!
I actually own a copy of Lunacy as well as quite a few other Sega Saturn games. I don't think I've ever heard another mention of it on game forums until now.
That Fatal Jack games looks pretty peculiar. I watched the few videos on it on youtube that are available. Game definitely looks to be an odd one. Thanks for bringing it up!
I've been too busy gaming lately to bother with this thread but I've taken a quick break to give you another obscure one I've played:
MA-RI-A: The Curse of the Puppet Museum (1996) (Windows)
This is yet another Japanese language game with a horror theme which has a young girl wandering around a haunted mansion. It's a short first person slideshow game with FMV sequences and multiple endings.
Unfortunately it isn't very good. Its primary problem is that the mansion is randomized every game for added variety during replays and it was, quite frankly, a horrendous idea. All the hallways look the same, and the exact same rooms are re-used over and over again. It's very tedious. Things do get much better once you get to the second floor which is much smaller and the plot actually begins to progress, but by then the game is almost over.
Title Screen:

Approaching the mansion:

Is this Stauf's Japanese counterpart?

Don't play with scissors:

In-game view of one of the rooms: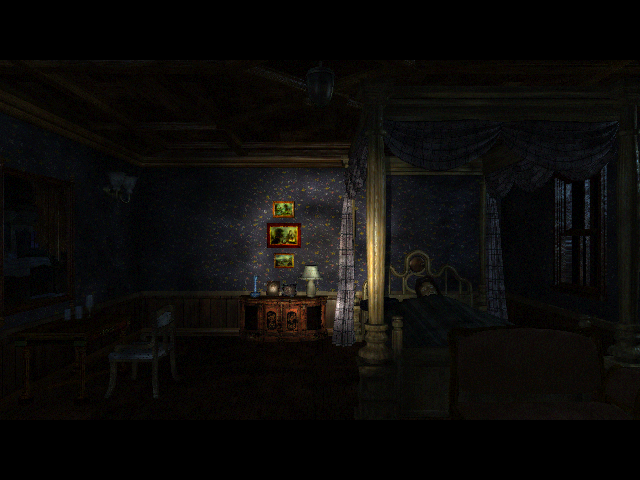 Creepy puppet time:

Story time: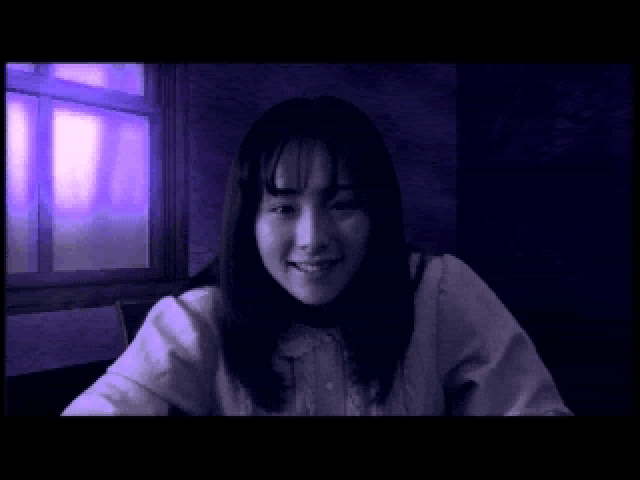 Someone isn't very happy:

The final puzzle: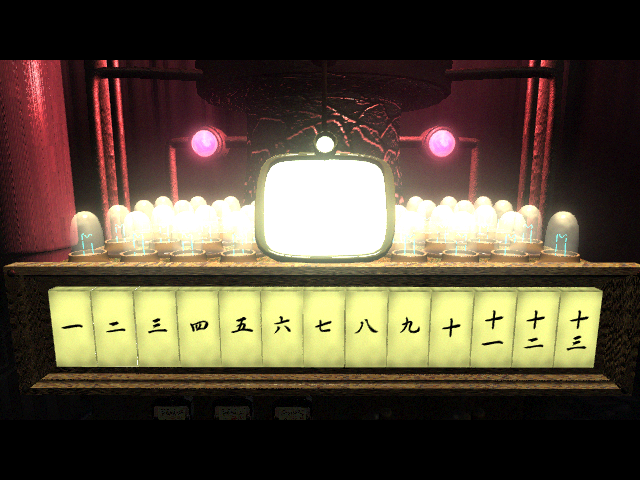 Free the girl or save yourself?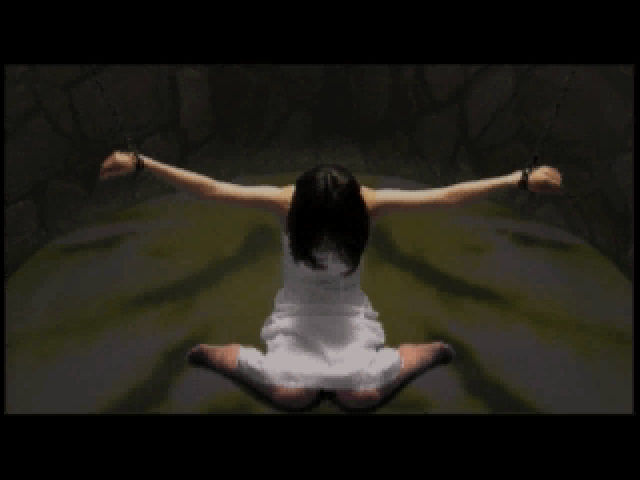 Whoa dude that looks like a cool game. loving all these chinese unknown advgames, keep em coming!
loving all these chinese Japanese unknown advgames, keep em coming!
FYP
Now Playing: The Last Express
Next in line: Cayne, Tex Murphy: Mean Streets, Gabriel Knight: The Beast Within, Portal 2, Professor Layton and the Azran Legacy
Recently finished: Portal (3/5), Machinarium (4/5), Beyond: Light Advent (post-CPT) (2.5/5), Anchorhead (CPT) (4/5), Enigmatis 3: The Shadow of Karkhala (CPT) (3.5/5), Violet (CPT) (3/5), Spider and Web (CPT) (4/5), Plundered Hearts (CPT) (3.5/5), J.U.L.I.A.: Among the Stars (CPT) (4/5), Emerald City Confidential (CPT) (4/5), The Stanley Parable (4/5), ASA: A Space Adventure (CPT) (3.5/5), Gone Home (4/5), Samorost 2 (3.5/5), Lost Lands: The Four Horsemen (CPT) (3/5), STASIS (4/5)
Anticipating: Asylum, The St. Christopher's School Lockdown, Gibbous: A Cthulhu Adventure, Beautiful Desolation
Dylan Dog: The Full Moon Nights (1988) (C64)
This is an Italian language game known as Dylan Dog: Le Notti della Luna Piena
and is one of 22 different Dylan Dog video games I have played. It's basically just a visual novel. You pick from multiple choices where you want to go and what you want to do and try to find the best ending hidden amongst them.
It's a story about werewolves and you get to be killed by them in many different ways. There are also some randomized events, meaning that even if you make the right choices you can still die on some occasions. Fortunately you can save your progress and the game is very short. You can probably explore all the paths in an hour or so and once you know the right path, play through it in just a few minutes.
As you can see below, there is actually an unofficial English translation of the game though it is a bit lacking and contains some added comments and language not in the original text. It's still better than nothing though.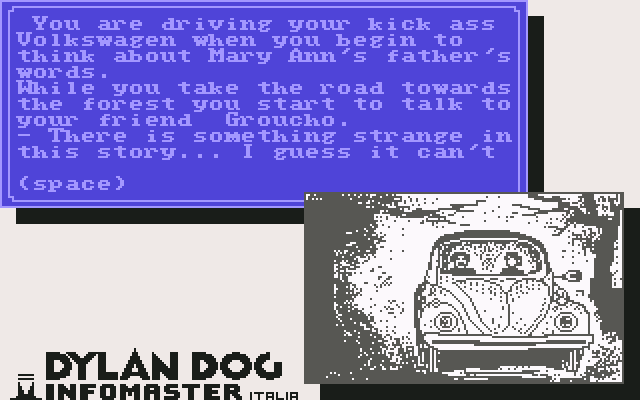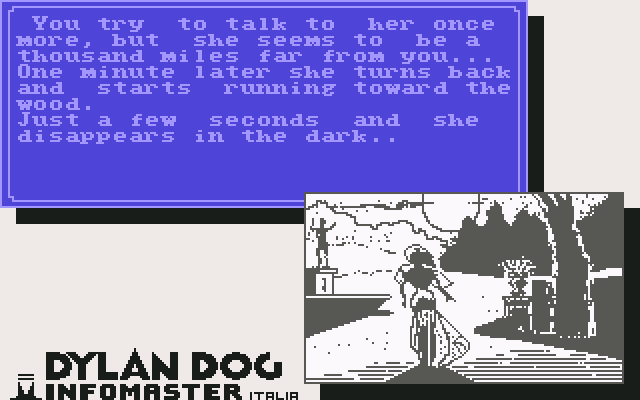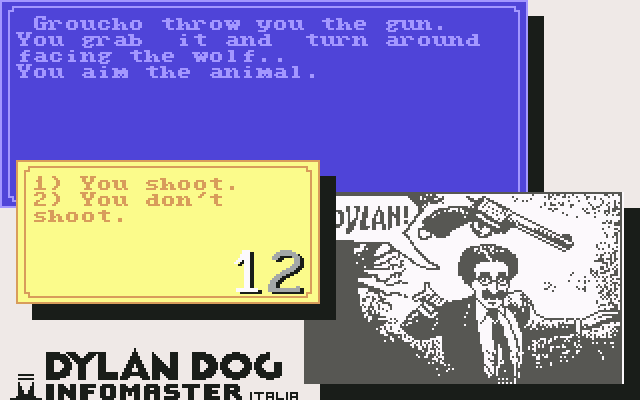 The Witch of Salzburg (1997) (PS1)
This is another Japanese language game released for the original PlayStation. It's basically the polar opposite of what I look for in an adventure game; no real puzzles, 3rd person, and entirely about the story. There's a lot of walking around and talking and stuff. At least it was a horror game. I would never have made it through it if someone wasn't occasionally being murdered.
Title Screen:

Iron Maiden wants you for dead: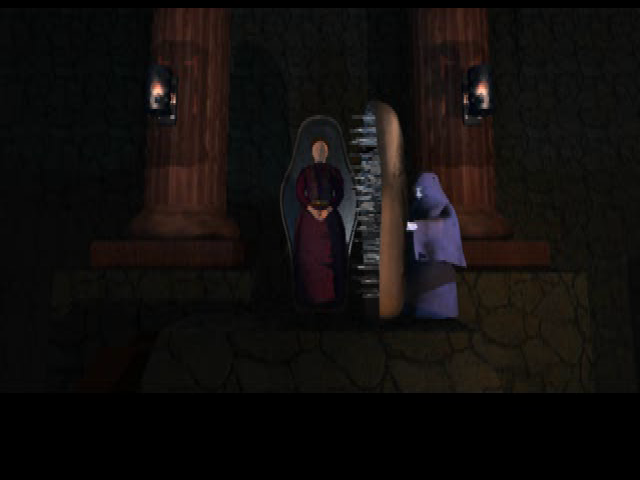 I love bathing in human blood in the morning. Feels like immortality:

The male dominated cast of characters:

Exploring the castle:

Oh look. A sausage party.

Now that is how you paint a room: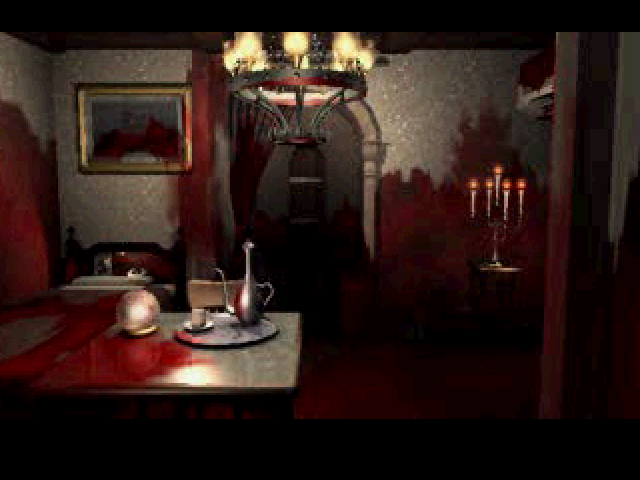 D - I hope you keep posting these (very) obscure games here, always fascinating to read a bit about them. Tough though to find the time, I realize playing is preferable to posting LOL.
MA-RI-A looks kind of cool, plus I live FMV type games. I will have to take your word on it though about how tedious the actual game is.
Witch of Salzburg also looks interesting…although those PS1 graphics are yikes.
D - I hope you keep posting these (very) obscure games here, always fascinating to read a bit about them. Tough though to find the time, I realize playing is preferable to posting LOL.
I'm not done yet, but eventually I will run out of games to post about. I'd love to have played every obscure adventure game, but I only have so much time and I play games from lots of other genres as well. I also covered a lot of obscure games when I did the AGSOTD for a year and I'm trying to avoid repeating any of them here. At least for now.
MA-RI-A looks kind of cool, plus I like FMV type games. I will have to take your word on it though about how tedious the actual game is.
You may not be bothered by the labyrinth as much as I was. I'm not really a fan of mazes so I might be being overly harsh about it. I'd certainly be interested to hear what someone else has to say about it. I liked the FMV parts and some of the creepy environments though.
The Death Trap (1984) (PC-8801)
This is an illustrated Japanese language text adventure by none other than Square, most famously known for the Final Fantasy series of RPGs. While pretty much everyone recognizes them for that, far less people know that their first four games were adventure games and this is their first. In fact, one might say that if it wasn't for the adventure genre there would be no Final Fantasy.
You play as an undercover agent/soldier whose mission is to rescue a scientist who has been kidnapped in order to coerce him to produce biological weapons for an African nation.
Title Screen:

About to embark on your mission: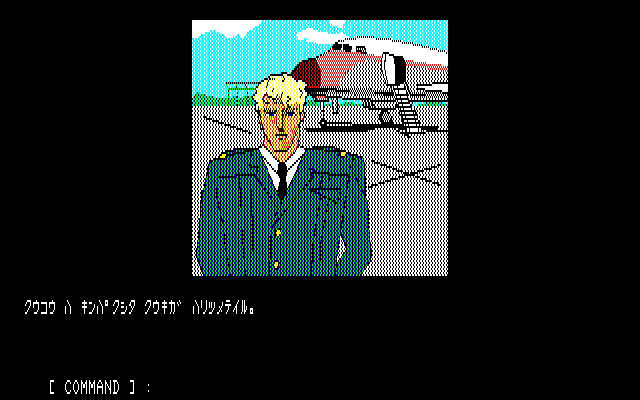 Interacting with one of the natives:

Doing the wrong thing can get you killed:

Playing with coffins:

This guy had a key I needed: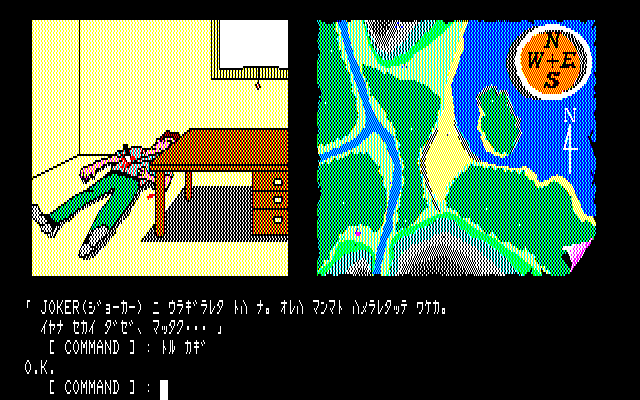 Getting the girl: